This is our big fund raiser for the year!
Did you know that it costs far more than your $75/year registration fee to deliver all of the fun events and supplies for your son's year of Scouting?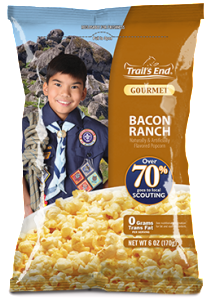 Most of this is funded by the pack, and the pack counts on our cut from the annual popcorn sales drive to generate the funds we need to deliver the Scouting experience to the boys.
Our "Popcorn Kernel" (Popcorn sales drive coordinator) is Jamie Compton, and he has done an amazing job of securing locations and dates for "Sit & Sells" at local stores. Take advantage of this! If your boy spends a couple of hours at a Sit & Sell he WILL generate sales and that helps the pack so much! Please coordinate with your den leaders ASAP to nail down some Sit & Sell time slots for your Scout.
Your scout can win prizes from the local Boy Scout district, depending upon how much he sells.
There are a few ways to sell the popcorn:
Sit & Sells
Going door-to-door (or desk-to-desk at your workplace!) with the sales worksheet/poster to do "Take Orders" (you write down the order, collect the money, and then we receive the popcorn a few weeks later for you to deliver to the purchaser.
Selling online
We ask that each boy try to sell at least $400 worth of product. Of course, the requirement is simply that he do his best. Remember that this is an outstanding opportunity for your son to develop skills, including confidently speaking to people and sales, that could serve him well for the rest of his life.
Should you choose for your scout not to participate in the annual Popcorn Sales program at all, we ask that for a $150 contribution to the pack as an "opt out".
One note about the cases of popcorn that will be distributed for sales: This year, they will not accept opened cases as a return. (In years past, they would accept unopened popcorn packages in opened cases.) So please do not open a case of product if you won't be able to sell it.
ACTION REQUIRED > Get your son signed up on http://sell.trails-end.com/ to do online sales and to track his orders.
ACTION REQUIRED > Work with your den leaders to secure at least a few Sit & Sell time slots to sell at local stores on the days we have reserved.
ACTION REQUIRED > Get the product info poster from your den leaders and sell to your family, neighbors, co-workers, and friends.
Important dates for Popcorn Sales:
Sept 5th
Pack leaders will pick up our initial shipment of popcorn.
The product will divided up between dens, and made
available to scouts to sell.
Oct 25th
Each den's take orders and any unsold popcorn due
and delivered to the pack Kernel (Jamie)
Oct 27th
Take orders due to the district
Nov 1st
All unsold and unopened popcorn returned to district.
Nov 22nd
Final popcorn distribution (take orders) ready for
pickup by the pack. Take order popcorn will be distributed
to Den leaders to distributed to scouts to deliver to customers.
Nov 23rd
Prize orders due.